This is a wall hanging I made for my daughter's room. The letters are KaiserCraft's MDF Funky Alphabet, which I picked up at Spotlight (unfortunately Spotlight don't carry this range anymore, but I notice they are still on KaiserCrafts website so may be available elsewhere.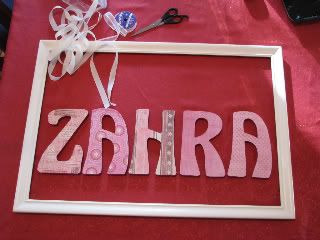 I painted them and covered the front with assorted scrapbooking papers. I picked up the frame at my local op shop for $1 *yay* sanded it back (it was mission brown!) and painted it white. The letters are attached with ribbon using a staple gun.
Here it is hanging above her bed.